News
Wednesday, December 20th, 2017
Illuminating the photon content of the proton within a global PDF analysis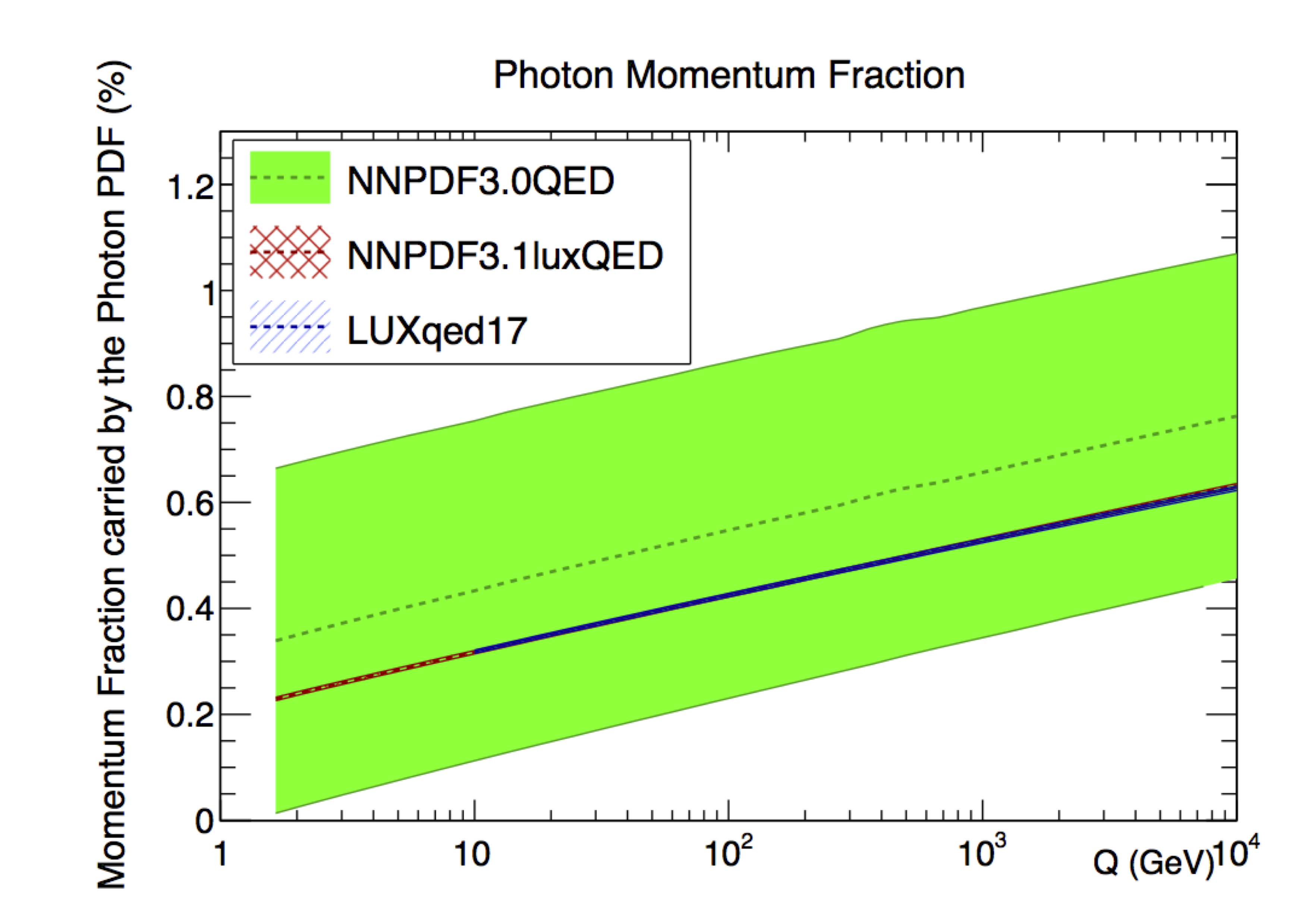 In previous NNPDF analyses, a model-independent parametrization of the photon PDF was constrained by LHC Drell-Yan measurements. In this work, the photon PDF is instead determined by the LUXqed formalism relating it to inclusive structure functions in lepton-proton scattering. Based on the same settings as the NNPDF3.1 global analysis, the NNPDF3.1luxQED set accounts for QED effects in the DGLAP evolution, the momentum sum rule, and deep-inelastic scattering coefficient functions. The resulting uncertainties on γ(x,Q) are now at the few-percent level, with photons carrying up to ≃ 0.5% of the total proton momentum. We also study the phenomenological implications for Drell-Yan, vector boson pair, top quark pair, and Higgs associated production at the LHC. For electroweak processes, photon-initiated corrections range between a few percent up to ≃ 30%.
---
Wednesday, October 18th, 2017
Evidence for BFKL dynamics in HERA data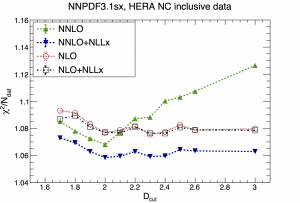 In a paper submitted today to the arXiv, the NNPDF Collaboration has presented a new global PDF determination in which NLO and NNLO fixed-order calculations are supplemented by NLLx small-x resummation. This analysis demonstrates for the first time that the inclusion of small-x resummation leads to a quantitative improvement in the perturbative description of the HERA inclusive and charm production cross-sections at small x and small Q, providing unambiguous evidence for the onset of BFKL dynamics. Crucially, the impact of the resummation in our fits is greater at NNLO than at NLO, because fixed-order calculations have a perturbative instability at small x due to large logarithms that are cured by resummation. This paper then explores the phenomenological implications of PDF sets with small-x resummation for the longitudinal structure function FL at HERA, for parton luminosities and LHC benchmark cross-sections, for ultra-high energy neutrino-nucleus cross-sections, and for future high-energy lepton-proton colliders such as the LHeC.
---
So cool - our @NNPDF_Team 3.0 paper is #22 of the most cited papers of 2017 according to @inspirehep 👍👍 ! t.co/Wiim3jKCQq
Retweeted by NNPDF_Team
After 40 years of studying the strong nuclear force, a revelation t.co/BqU9ZElRVK Me at Life & #Physics on BFKL and all that.
Retweeted by NNPDF_Team